Do not miss this captivating challenge of exploring DIGITAL WORLD with MonsoonSIM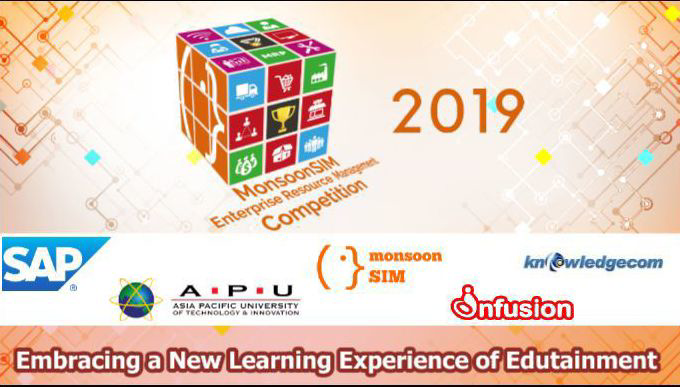 The 5th MonsoonSIM Enterprise Resource Management Competition Country Final 2019 
Join us to begin this magical adventure and to stay engaged with Edu 4.0
Join us on 20th July 2019 at Asia Pacific University (APU) 
&
Be part of this amazing business battle with MonsoonSIM
For further enquiry on MERMC 2019 /  Registrations queries for interested candidates

; 
Kindly drop your emails at Ruby@myinfusion.com
---
---
2019 :
MonsoonSIM Bonus Year
Exciting kick start of 2019 in beautiful city of BALI !!♥
Be part of our  MonsoonSIM 1st Partner and User Conference in Bali on Jan 26th to 29th.
Grab the privilege to join MonsoonSIM's launch of new eCommerce module , and to acquire how MonsoonSIM supports Data Science studies (:
For more information, kindly visit our Partner Conference page at:
http://www.monsoonsim.com/guide.html?stage=MSIM_CONFERENCE
or Drop us an email at : Alex@myinfusion.com
---
Free Preview about 'MonsoonSim' program.
Objective : MonsoonSim Preview and Q&A session
Date:  Please call in for booking
Web : http://www.monsoonSIM.com/index
Note: With limited Seats.
Please call +607-359 7836 / +607-358 7616 for registration.