Sage 300cloud in-depth
The Sage 300cloud business management and accounting application offers high performance and reliability so that you can increase profitability and gain a competitive edge in your market.

A comprehensive and flexible business management solution, Sage 300cloud is designed to keep your total cost of ownership low. At the core of Sage 300cloud is strong financial, operational, mobility, sales and customer relationship management (CRM) features and capabilities.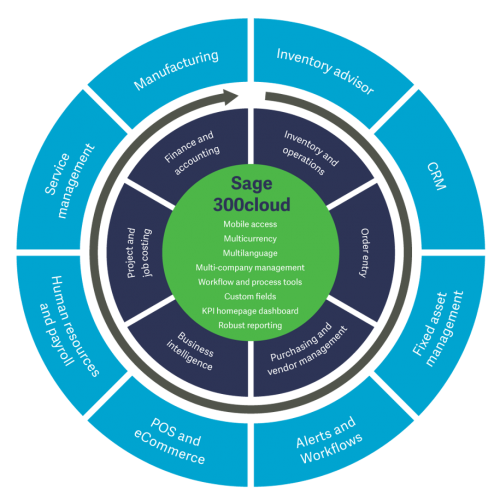 Finance Tools
Manage complex finances with confidence. Sage 300cloud has: multi-currency capability, inter-company transactions, powerful bank reconciliation, EFT* and tax reporting features, flexible transaction processing options, informative dashboards for analytical reporting, and much more.
Create budgets, present financial statements, and share key metrics by using powerful reporting tools.
Easily apply cash to outstanding invoices and create recurring charges for quick invoicing of monthly charges.
Save time and reduce administrative costs, and gain better control over your business processes by automating a wide range of vendor-related tasks.
Cut costs and eliminate error-prone, time intensive manual processes associated with the processing of inter-company transactions.
A smarter way to manage your cashflow with prediction and notifications of potential cashflow issues, cashflow KPI dashboards to give you an overview of your cashflow position and useful reports that you can use to deep dive into your cashflow status.
*indicates Third Party or OEM Product
Sales Order Management
Sage 300cloud provides powerful order entry and order management capabilities to help expedite your order processing and boost profitability. Stay on top of your customer accounts, inventory levels, and purchase histories in real time, anytime. Pursue up-sell and cross-sell opportunities with increased accuracy that improves the lifetime value of customers.
Include multiple orders on a single shipment or multiple shipments on a single invoice.
Look up customer pricing based on customer contract price, item base price, or discounted or marked-up sales prices.
Review sales history by customer or inventory item during order and invoice entry.
Improve customer satisfaction by creating detailed quotes and automatically converting them to new orders.
Access your current inventory, quotes and accounts receivable records on the go using Sage CRM, helping you make shipping decisions more confidently and serving your customers better.
Inventory Tools
Track stock levels and process inventory receipts, shipments, returns, and adjustments by using the multi-location inventory management system. Inventory Management in Sage 300cloud helps you gain complete control over complex inbound and outbound inventory transactions to reduce carrying costs while delivering on-time orders, every time.
Further optimize your inventory management with Sage Inventory Advisor and reduce stock outs, excess inventory and improve your working capital.
Easily track your inventory as it moves through your enterprise utilizing configurable options to manage the most complex processes.
Access real-time data to streamline decision making and improve operations.
Handle fractional quantities to four decimal places and maintain different units of measure for purchasing, selling, and stock-keeping.
Use categories to classify stock and allocate costs to departments or cost centers.
E-invoicing
As a Peppol-ready solution, Sage 300 can help you generate and send e-invoices via the Peppol network, quickly and easily, so that you can get paid faster. With our Peppol ready software, customers will be able to:
Reduce cost on sending paper invoices, keep hardcopies of invoices and store them for future references
Increase productivity by reducing error-prone manual data entry and labor intensive administrative work
Reduce lost invoices
Remain compliant to the local government regulations while digitizing their business operations
Get paid faster by reducing invoice processing and validation time
Expand your business internationally through sending E-Invoice to overseas customers
Purchasing and Supplier Management
Implement best practices in your purchasing management and reduce costs by consolidating inventory and distribution processes. Sage 300cloud helps you streamline purchasing and receiving processes, and provides the information you need to make insightful decisions for your business.
Reduce repetitive data entry by creating templates of standard information.
Automatically produce purchase orders from Inventory
Control reorder information or from Order Entry back-orders.
Quickly consolidate items from multiple purchase orders on a single receipt.
Print requisitions, purchase orders, receiving slips, returns, and mailing labels using standard
Purchase Orders formats, or design custom forms and reports.
Choose from seven costing methods, including Most Recent Cost, Standard Cost, Average Cost, Vendor Cost, and Last Unit Cost.
Maximize the potential of your purchasing system with a comprehensive purchasing workflow solution powered by Pacific Tech* that provides a fast, effective and complete approach to procurement within your business.
*Indicates Third Party or OEM Product
Warehouse Management
Improving the speed and accuracy of the fulfilment process and reducing the cost of labor are the key issues that distribution and warehouse-related businesses face. Gaining control over these issues requires technology that optimizes the utilization of your people and your assets.
Automate your warehouse using tools such as conveyers, carousels, sophisticated picking algorithms, advance replenishment methods, and order allocation, delivered in a simple, intuitive solution by Accellos* – an integrated warehouse management solution for Sage 300cloud.
Eliminate manual warehouse processes and counts.
Reduce picking, shipping, and receiving errors.
Improve inventory accuracy through RFID and the use of barcodes.
Support wireless picking and receiving and multi-zone picking.
Lots/Serial/Expiry management with support for kitting, container receiving, license plates, carton splitting, put-away/slotting.
Track inventory items stored in multiple bins within a warehouse or Sage 300cloud Inventory Control location using the Sage 300cloud Bin Tracking solution powered by Orchid Systems*.
Save time by updating your inventory transactions in real time and gain count-less labor hours both in the warehouse and in the back office using ACCU-DART* - a real time inventory control solution designed specifically for your Sage 300cloud system. Utilizing radio frequency hand-held devices with built-in bar code scanners, your warehouse employees can process transactions with real-time validation and posting. ACCU-DART* integrates seamlessly with Sage 300cloud . It is functionally rich with the capability to automate most of the daily warehouse functions.
Update transactions directly to the Sage 300cloud system in real-time, saving time in the warehouse and office, and increasing efficiencies.
ACCU-Dart verifies that the correct items are being scanned for every transaction, reducing errors and improving inventory accuracy.
100 % modular solution – purchase only the functionality needed to improve your business operations.
Flexibility to select functionality that ranges from the basic inquiry modules to the comprehensive Ship Sales Orders, Receive Purchase Orders, and Physical Count functions.
*Indicates Third Party or OEM product
Point of Sale (POS System and Solution)
Improve customer experience and control inventory with Sage 300cloud Point of Sale solutions*. Manage high volumes of transactions, multi-store retail and wholesale operations without any hassles. The Point of Sale (POS) solution is designed for competitive industries such as fashion, retail, restaurant and hospitality, and online shopping. Sage 300cloud gives you the flexibility to deploy either InfoCentral POS* or Acdev POS* solution depending on your specific business needs.
Create intelligent and comprehensive promotions
Run % discounts for selected item for a period in time
Flexibility to select from various pricing models depending on business scenarios
Set up your system in different ways to accommodate different business conditions
Increase store traffic and revenue by using the gift card service
* Indicates Third Party or OEM Product
E-Commerce and Websites
Update your web store automatically when you update your Sage 300cloud data. That's the power of having an integrated E-Commerce solution with your Sage 300cloud system. Advanced E-Commerce solutions such as Iciniti eCommSuite 5 and XM Symphony enable companies to sell products and services efficiently over the web and provide a two-way integration with your Sage 300cloud system. Orders are processed in real time with no requirement to re-key or import order information. Based on the business requirements, customers have the flexibility to choose between two E-Commerce solutions.
Implement a B2C and/or B2B web store that is fully integrated with Sage 300cloud.
Enable self-service ordering, account look-up and inventory availability checks.
Integrate real-time shipping quotes and tracking information.
Process web orders automatically by interacting directly with order entry.
Integrate secure credit card payment processing with Order Entry, Accounts Receivable, and a web store.
Manufacturing Management
With businesses facing greater competition, maintaining an efficient workflow on the production floor becomes important to keep costs down. The Sage 300cloud manufacturing solution* powered by AutoSimply provides a simple yet complete manufacturing solution fully integrated with the financial and operational modules. It includes work order processing, materials planning, lot/serial tracking integration and shop floor control options.
Control your manufacturing operation flow covering material purchase, processing manufacturing orders, work in progress, routing cost calculation, material consumption, material scrap and item substitution and order closeout.
Define item planning parameters such as minimum stock, minimum order quantities, lead times, etc.
Define lot/serial tracking information for materials issued, returned and received in the warehouse.
Record time entries and shop transactions of MO operations using Shop Floor Control. It provides detailed production data between the releases of MO to the receipt of MO order quantity.
* Indicates Third Party or OEM Product
Project and Job Costing
Simplify project management processes for every job and every project type. Sage 300cloud Project and Job Costing module maximises efficiency, enabling you to meet customer specifications for products and services without risking profitability. It makes the estimating, tracking, costing, and billing of projects easy and manageable – simplifying cost control and planning.
Quickly identify success factors and potential issues for any project.
Easily manage time, expenses, and purchasing to simplify job costing and forecasting.
Optimise projects and contracts for cost control, on-time delivery, and project visibility.
Tightly link field services with other operations for speed and effectiveness.
Track and report detailed project costs with industry and business-specific categories.
Service Management
Improve efficiency, lower costs, boost productivity and enhance customer satisfaction with centralized management of your service and maintenance functions through Service Manager* – an integrated service management solution powered by Technisoft. Service Manager allows you to access data locally or from the field using mobile devices.
Manage job costing, preventative maintenance, scheduling of resources, field service, and general equipment servicing.
Equipment transfers, warranty, rental, serial and lot tracking.
Multi-currency, Standard and WIP accounting, Budget vs. Actual Profit Analysis, General/recurring and consolidated invoicing.
Manage purchase orders, requisitions, authorization workflows, returns, refurbishments, rotations.
Advanced maintenance including scheduled/meter based maintenance plans, predictive maintenance, parts & labor requirement forecasts, templates etc.
*Indicates Third Party or OEM Product
Business Intelligence and Reporting
Turn insights into actions with built-in business intelligence (BI) tools and a library of predefined reports that centralize data.
Experience on-demand analytics and rapid decisions making with embedded, real-time business information.
View and alter data from any location using the web or mobile-based apps.
Create reports with data across multiple fiscal years and budget sets.
User-defined triggering events for updating statistics in batch or real-time.
Analyze and report on information in an intuitive self-sufficient manner.
Expand the core analytical capability of Sage 300cloud with Sage Enterprise Intelligence or Sage Intelligence.
Solving Business Challenges
Streamlining Business Processes
Many companies face unique challenges at some point in time such as data inconsistencies, high overhead costs, decreased customer loyalty, slow production cycles, uncontrolled purchasing procedures, inefficient materials management, slow inventory turns and high carrying costs. These challenges can increase the cost of doing business.
By automating business processes and improving accuracy of data and flow of information, Sage 300cloud helps streamline day-to-day tasks and free up staff to focus on other more complex issues, which require more personalised attention. As a result, companies will see increased productivity and reduced operating and overhead costs.
Improve visibility by accessing the most up-to-date information with Sage 300cloud
With automated workflows and business processes, increase accountability within your business
Analyze your processes periodically and improve efficiency by making informed decisions with Sage 300cloud
Further optimize your business processes with Integrated business intelligence and analytics tools
Trading in Different Geographies
As your business grows, you need a system that is flexible and robust to handle volumes of transactions in real-time. Sage 300cloud is a comprehensive business management solution designed to keep your total cost of ownership low. No matter where you do business, the ability to report across your organisation with superior multi-currency support opens up a holistic view of your business.
Sage 300cloud gives you the opportunity to add users and adopt greater functionality as your business grows and offers built-in support for multiple languages and multi-currency transactions.
Effortlessly bring together, analyse, and report on multiple business units, subsidiaries, companies and countries within your organisation.
Global localisation with language translations per system user.
Easily implementable at multiple locations and scalable as your company grows.
Financial Management
A powerful financial management solution is the foundation to help you improve productivity, envision success, and accelerate growth. Finding the right balance between allowing your people to work the way they want and capture the key financial data you need can be a difficult task.
Slash the time and cost of complex accounting and financial management software processes and redirect those resources toward growing your business. Sage 300cloud offers proven functionality that automates financial management and business operations, including:
Configurable general ledger account setup allows adoption of unique processes and best practices.
Merge multiple subsidiary accounts into a single holding company account.
Reduce the time spent on time consuming budgets and forecasts.
Gain complete control of your receivables and invoicing processes and leverage automatic calculations that avoid errors and eliminate duplicate data entry.